VR38DETT Engine 3.8L Review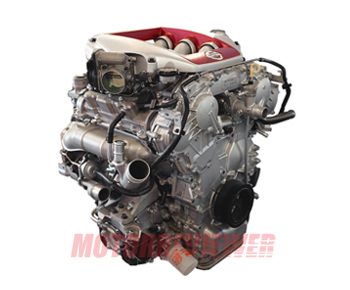 This engine is specially designed for Nissan GTR, which was reborn in 2007. Instead, inline six cylinder engine RB26DETT as in predecessor, Nissan engineers decided to use a more compact V6 engine. The engine was not built from scratch, as the base they took good road V6 engine VQ37VHR . But many parts were redeveloped of course.
The engine has its own cylinder block. It is made from aluminum and has 60° cylinders angle. But there are not cast iron sleeves. Instead of that, on the wall of each cylinder is 0.15 mm layer of low carbon steel. The displacement increasing was achieved by installing new crankshaft with bigger stroke. This change resulted in major dimensions of bottom parts. The cylinder block height is 244 mm. Connecting rod length is 165 mm. Compression height of aluminum forged pistons is 34.3 mm.
The engine also has two-camshaft aluminum cylinder heads with 4 valves per cylinder. Intake and exhaust camshafts are equipped with continuous variable valve timing control system CVTCS. VR38DETT camshaft specs: duration - 238/248; valve lift - 9.56/9.88 mm. The diameter of the intake valve is 37 mm, exhaust valve - 32.2 mm.
The intake camshafts are driven by one timing chain from the crankshaft. Each exhaust camshaft is driven by small chain from intake camshaft inside the cylinder head. By itself, the timing chain is very reliable on this motor. The last TT in the name of the engine means what it has two turbochargers. The engine is equipped with IHI RHF55 turbochargers, which was producing 0.75 bar boost until 2010 model year.
In 2010 the boost was increased up to 0.9 bars. The engine got new intake and exhaust manifolds. These manipulations helped to get 530 hp at 6400 rpm. After a year, in 2011, on this engine were installed new more efficient fuel nozzles, redeveloped headers, ECU update. The power was raised to 545 hp. 2016 Nissan GTR model has upgraded 565 hp engine also. There are new ignition system, titanium exhaust manifolds, and higher boost.
Engine Specs
Manufacturer
Tochigi Plant
Cylinder Block Material
Aluminum
Fuel system
Fuel injection
Power, hp
485/6400
530/6400
540/6400
565/6800
Torque, lb ft
434 (588 Nm) /3200-5200
451 (612 Nm) /3200-6000
466 (632 Nm) /3200-5800
467 (633 Nm) /3300-5800
Engine oil viscosity
0W-40, 10W-40
Engine oil capacity, liter
5.5 (2007-2011)
5.0 (2011+)
Oil change interval, mile
6,000
Oil consumption per 1000 miles as normal
Applications
Nissan GTR R35, Nissan Juke R
VR38DETT 3.8l engine Problems and Reliability
The engine has good tuning potential due to strong reliable parts in stock. But it is hard to say how long is engine live due to specific of sports cars driving like GTR.