Hyundai KIA G4KE 2.4L Engine Review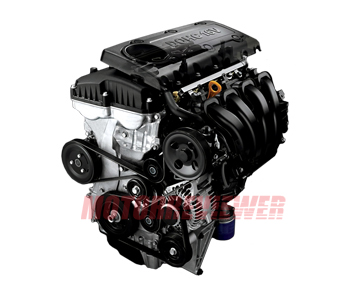 The G4KE engine belongs to the Theta II family. The engine is the same as the G4KD engine but has more displacement.
The 2.4-liter displacement was achieved by installing the new crankshaft with 97 mm stroke instead of two-liter version's 86 mm stroke crankshaft, and bigger cylinder bore. The G4KE got new pistons with the diameter of 88 mm. The 2.0-liter engine has 86 mm piston diameter. This engine is equipped the same variable valve timing system CVVT on both camshafts already. There are not hydraulic lifters/tappets in the valvetrain of the G4KE.
The G4KE is a copy of Mitsubishi's the 4B12 engine. It took the start of as the result of the World Engine program. The 4B12 is available for the Mitsubishi Outlander, Peugeot 4007, Citroen C-crosser and other cars.
Engine Specs
Manufacturer
Hyundai Motor Manufacturing Alabama
Production years
2004-present day
Cylinder block material
Aluminum
Cylinder head material
Aluminum
Fuel system
Electronic fuel injection
Type of internal combustion engine
Four-stroke, naturally aspirated
Engine oil capacity, liter
4.6
Oil change interval, mile
10,000
Applications
Kia Cerato, Kia Optima, Kia Sportage, Kia Sorento, Hyundai ix35, Hyundai Sonata, Hyundai Santa Fe
Hyundai-KIA G4KE Engine Problems and Reliability
Engine problems are the same as two-liter engine has. There are different sounds, noises, knocks. You can read more information on G4KD engine review page.
Hyundai KIA Engines
Engine Makes