Toyota 5VZ-FE 3.4L Engine Review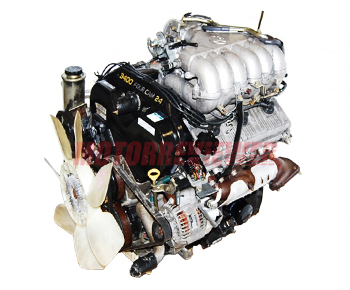 The 3.4-liter V6 engine called 5VZ-FE was released in 1995. This engine was developed for Toyota SUVs and off-road vehicles specifically. The 5VZ-FE engine is based on the 3VZ-FE engine.
The cast iron cylinder block is from the 3VZ-FE, but it has bigger bore to achieve the more significant displacement 3.4 liters from 3.0 liter. The engine has a V-shaped configuration with 60-degree cylinders angle. The bigger bore required new pistons to get the result 9.6:1 compression ratio. There are aluminum DOHC cylinder heads with four valves per cylinder on top of the block. They are the same as 3VZ-FE heads with a few small changes. Camshafts specs of both engines are different. 5VZ-FE camshafts were tuned for more torque down low compared to the 3VZ, which gives less peak torque but has a gentle flattish curve throughout most of the range. Cams are driven by timing belt also.
The engine got the new intake manifold with longer runners, which also helps to produce maximum torque at low and middle engine rpm. The fuel injection system was modified to sequential multiport fuel injection (SFI). 5VZ-FE got new ignition system. The exhaust manifolds were optimized to produce more torque. 5VZ is equipped with oil cooler and new more performance coolant fan to improve the situation with overheating on the off-road.
The 5VF-FE became an excellent engine for off-road models, pickups and commercial trucks from Toyota. The engine was produced until 2004, and then it was replaced by the 1GR-FE engine.
The favorite way to increase the power and torque of the 5VZ is to install a supercharger on it. There are many bolt-on kits on the market available for this V6 engine like TRD supercharger kit that uses Eaton M62 supercharger. This upgrade requires replacing the stock fuel injectors by the fuel injectors from the 2JZ-GE engine or any performance injectors for increased fuel consumption. The output with stock bottom parts (pistons, connecting rods, crankshaft, etc.) on the pressure between 0.5-0.7 bar is about 250-280 hp and a lot of torque.
Engine Specs
Manufacturer
Toyota Motor Manufacturing Alabama
Production years
1995-2004
Cylinder block material
Cast Iron
Cylinder head material
Aluminum
Fuel system
Fuel injection
Type of internal combustion engine
Four-stroke, naturally aspirated
Power, hp
190 (142 kW)/4800
Torque, lb ft
220 (298 Nm)/ 3600
Engine weight
420 lbs (190 kg)
Engine oil weight
0W-30, 5W-30, 5W-40, 10W-30
Engine oil capacity, liter
5.3
Oil change interval, mile
6,000 (10,000 km) or 12 month
Applications
Toyota 4Runner, Toyota HiLux, Toyota Land Cruiser Prado, Toyota Tacoma, Toyota Tundra, Toyota T-100, Toyota Granvia
5VZ-FE Engine Problems and Reliability
The 5VZ is more reliable than its predecessor. But there are still can be found problems with head gasket occurred the engine overheating. The lifespan of 5VZ is a little bit longer, and it is about 200,000 miles of mileage (320,000 km). With careful maintenance and the high-quality oil, it is possible to run more miles without any troubles.
Toyota Engines
Engine Makes