BMW S52B32 Engine Review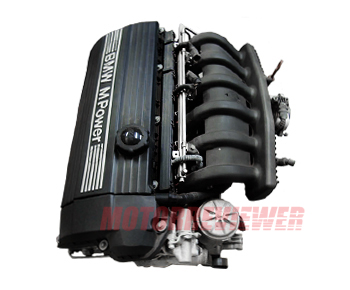 The S52B32 is based on the M52B28 engine. This engine was developed specially for North American M-version models instead of the S50B32 engine in the European market.
The engine got cast iron cylinder block - the same as the North American M52B28 block just with the bigger bore (86.4 mm). There is the forged crankshaft inside due to more loads. Connecting rods are the same 135 mm long, and the compression height of pistons is 31 mm. The stroke of the crankshaft was increased to 89.6 mm, and that allowed getting 10.5:1 compression ratio and 3.2-liter capacity as a result.
The S52 engine uses redeveloped M52 cylinder head with Double VANOS system. It has more extensive channels for cooling inside, stiffer valve springs, light pushers and camshafts. The head gasket is unique for this engine and not interchangeable with M52 engines. S52B32 camshaft specs: duration 252/244 deg, valve lift 10.2/10.2 mm.
The intake is simple plastic intake manifold and electronic throttle body, but the exhaust system got new more efficient headers. S52B32 engine ECU is Siemens MS41.1.
Some European car enthusiasts order S52 engine from the USA for its increased reliability and tuning potential. This engine can be found under a hood of the US and Canada BMW M3 E36 and Z3M cars until 2000, and then it was replaced by the real S54B32 M-engine.
Engine Specs
Manufacturer
Munich Plant
Production years
1996-2000
Cylinder block material
Cast Iron
Cylinder head material
Aluminum
Fuel system
Fuel injection
Type of internal combustion engine
Four-stroke, naturally aspirated
Torque, lb ft
240 (320 Nm)//3800
Engine oil weight
0W-30, 0W-40, 5W-30, 5W-40
Engine oil capacity, liter
5.5
Oil change interval, mile
6,000 (10,000 km) or 12 month
Applications
1996-1999 E36 M3 (Canada and USA only), 1998-2000 E36/7/8 Z3M (Canada and USA only)
S52B32 Engine Problems and Reliability
1. The thin walls of the plastic thermostat are the common reason for coolant leaks.
2. The increased cooling channel in the head also increases a chance to get coolant in the cylinder when the engine is overheating.
3. High oil consumption can lead to severe damage of pistons under a high load.
4. Double VANOS life is only about 120,000 miles.
5. Air leaks in the intake manifold cause a wrong measurement of the Lambda sensor. That is very common for the S52 engine.